Top 30 DIY Recycled Pallet Beds Design
Really desire to renovate your room with something cheap, attractive and beautiful? Here is the top 30 DIY recycled pallet beds design to turn your surrounding into a royal bedroom by re-transforming wood pallets into something complementing. There are many advantages of using recycled pallets wood, few are, pallets wood is cheap in price, we can easily find it everywhere, these pallets wood has sturdy structure and wood is also strong and healthy to reshape. These pallets wood offers us numerous possibilities of modification and interpretation. Now choose these pallets wood for creating an extraordinary bed for your room. Let's become a carpenter for some time and create thought-provoking bed frames for your bedrooms.
Creating pallets wood bed frame is the cheapest way to renovate your bedroom. This bed frame with downside blocks offers storage to you. Use of glamorous light balls inside the bed frame makes it's stunning and beautiful in a display. This is the best bed frame for small size bedrooms.
Did you have noticed that how amazing this pallets bed is seeming in its natural wood color? This pallets wood bed is best for your bedroom and good enough to use in hotel and guest rooms. The natural looking presentation of this bed frame allowing the environment of the room to breathe.
No doubt that a small bedroom also requires storage space and appealing atmosphere. These pallets bed ideas will not only fulfill the requirements of your bed but other wood pallets furniture is providing you enough space to store and keep your books, magazines, and other documents near to you.
If you are planning to create beautiful kid's bed for your kids, then nothing is better than to choose a recycled pallets wood stacks for this purpose. Create this simple pallets bed for your kid's room and decorate it with paint as according to the texture and theme of their room.
This pallet bed is displaying a traditional atmosphere in your room. This recycled pallets wood bed is stylish and looks perfectly cleaned. It can be easily adorned with elegant floral design bed sheet and pillow covers.
This is another marvelous pallets wood bed crafting by up-cycled pallets wood. It can be easily customized in size and shape according to our bedding requirements. This pallets wood plan is simple and an easy art to craft for decorating your bedroom with smartly designed pallets bed.
This is another picture description of pallets wood that how we can reshape and transform them into a useless product for our needs. This pallets wood bed storage is equally best for your bedroom and your kid's room. It is a great pallets bed for crafting in leisure time with little effort.
Use your leisure time in creating amazing wood pallets bed frames for your house usage and also for selling purpose. Wooden beds are too expensive these days that many people can't afford them easily so try our best DIY pallets wood bed frame ideas to benefit yourself and also others from it.
No doubt that small bedroom is quite difficult to decorate and furnish but this pallets bed is bringing a great solution for you. This amazing creativity will turn your small bedroom appearance into a large bedroom look and at the same time it will decorate your bedroom with a new wooden bed. This is a mind-blowing bed frame to present as a gift to your loved one.
Now reshape useless pallets wood into an attractive pallets bed and decorate it in all white paint. This white color pallets bed will enhance the grace of your bedroom. Bright colors walls and light color bed in your rooms makes a great combination to give the atmosphere of the bedroom romantic display. The lower side blocks present in this bed also able you to store things in it.
This is another appealing creation by reprocessing pallets wood. We have crafted this pallets wood bed with pallet's side tables with three drawers to provide you the comfort of relaxing and space for your light lamps and decorations products in your room.
Storage of decoration items, books, magazines and other items is the essence when you are leaving in a small house or apartment. Craft this pallets bed frame with storage capacity that will provide you comfort and space for storing your essential products.
This is another simple and unique pallets bed with side tables. Don't waste your money on buying expensive wooden furniture and become creative by using our these pallets bed ideas and renovate your room in cheap cost with something brilliant in appearance.
A beautiful dark color carpet on the floor requires a similar dark color pallets bed on it. This is a through-provoking pallets wood bed to decorate your simple looking bedroom with something new and modern in it. It will reshape your ordinary bedroom with something divergent.
A narrow size bedroom also requires a light bedding furniture in it. This pallets king size bed with headboard is another marvelous creation to show the importance of recycling raw material. You can change the shape and size of the pallet bed as pallets wood provides you complete freedom of modification.
Here we came up with another marvelous pallets bed idea. Creating something different for your family with someone helping you in it is a healthy activity to done in your leisure time. Save your money and reuse useless stacks of wood pallets present in your home to provide maximum comfort to your family totally free of cost.
Here we are presenting another awesome pallets bed idea. This time it is pallets wood single bed crafted from guest rooms and hotel rooms. This bed is simple to craft with few crafting tools with you. The pallets wood one side table is giving this bed an attractive display.
With your little efforts and time, you can easily turn simple and rough wood pallets into useless pallets bed. This is the best bed design for your large size bedroom. This bed looks unique with pallets headboard and best to provide you sweet and comfortable sleep at nights.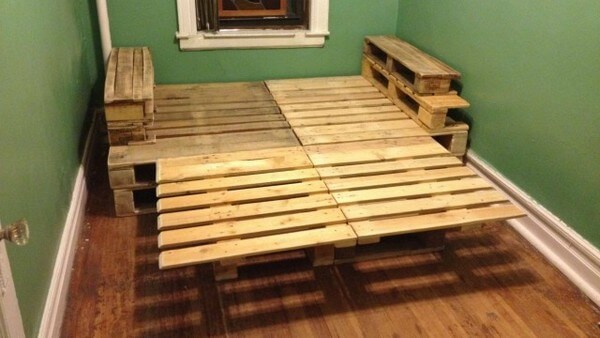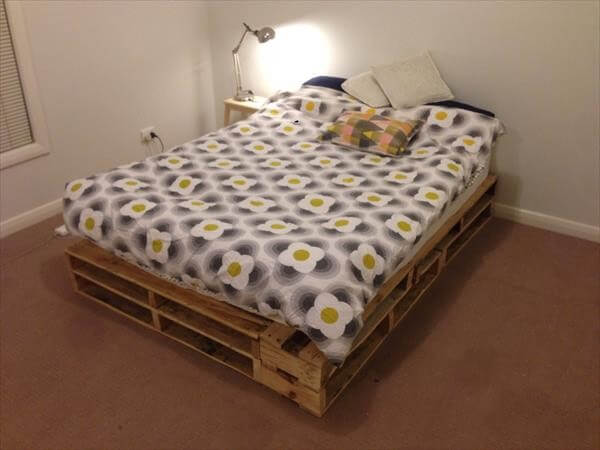 https://youtu.be/nS1c–jlVrk