DIY Furniture Projects with Wood Pallets
Wooden made furniture products are the basic need of every home. But with the passage of time, the rates for the furniture items have been also increased. So the wood furniture lovers have found a great solution to meet their wooden furniture needs in an economical way through creating a stunning pallet wood products. These DIY pallet furniture projects are not only cheaper and inexpensive but also durable in nature. Reusing the old shipping pallet to make a stunning bed frame, a delightful lounge seating furniture and pallet letterbox will for sure keeps you busy and healthy. Crafting something new with the old raw material is not only money saving but also Eco-friendly as it will show your care and your attention toward your nature.
Are you fed up with the simple and ordinary looking lounge seating furniture and wishing to have adorable furniture items at your place, then this pallet made a sofa with storage appears great for the decoration and at the same time to meet the seating furniture needs in your budget.
Crafting a stylish wooden bed with the reclaimed wooden pallets stacks is a fascinating as well as an inexpensive idea. Use your leisure time and re transform the rough useless pallet in this amazing wooden bed structure. The entire construction of the bed frame with storage blocks appears appealing as shown in the picture given below.
Are you looking for an exceptional project for meeting your seating furniture needs, if yes, then simply collect the old shipping pallet stacks, your wood crafting tools like glue gun, drilling machine, woodcutter and nails and also a small box of bright red color paint to create this attractive wooden pallet bench for your garden area.
Now reshape the useless and wasted pallet planks, and large boards of your place to create this extraordinary plan for the renovation of your home's corners. This two layers recycled wooden pallet shelve is best for the placement of different decorating items on it as well as a great plan to place in your kitchen area.
This is the perfect time to show your hidden wood crafting skills by creating this stylish as well as useful pallet serving tray project. The most attractive thing in this innovation is that it will never look old after regular washing and will serve you for many years to come with its durable material.
Have a look at this magnificently created pallet decoration item. This pallet made signboard is best to increase the grace of your simple looking walls. This different appearance of this signboards is also reminding us a beautiful sense of Hollywood magical movies.
This time, this marvelously created pallet plan not only seems eye-catcher but also a great one to meet social needs. This artistically crafted pallet wood letterbox will definitely keep you connected with your beloved ones by providing you a secure delivery of your letters. This creation with black paint roof-like structure gives an appealing look to the entire climate.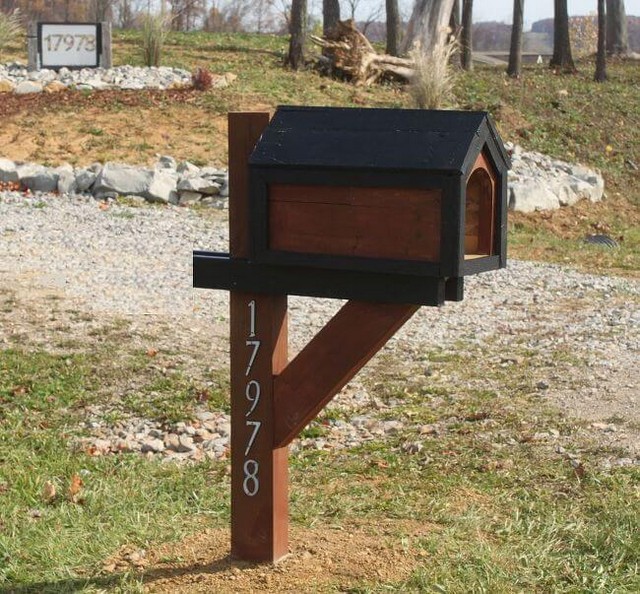 This is another stylish and modern looking recycled wooden pallet plan that we have beautifully designed for meeting the kitchen dining table needs. The upper wooden interior and the steel base seems the best plan to fulfill all kinds of table needs through it.