Ideas For Recycled Pallet Shelves For Your Kitchen
Kitchen is a place where you don't have enough storage space. You always need something extra for your kitchen stuff. It looks easy to store your daily routine items on shelves instead of putting them in cabinet whereas you can also place some kinds of displaying crockery to enhance beauty of your kitchen. Creating your own recycled pallet shelves for your kitchen by following some creative pallet ideas is one of the best things that you can go for instead of spending huge amount of money on buying some shelves you can create them just free of cost. Wooden pallets are among best options for recycling and creating some useful stuff out of it. As these pallet woods are used for carriage and shipping of goods therefore they strong enough to bear the burden of your kitchen stuff. Kitchen recycled pallet shelves is one of the best option to transform your pallets into something different and new.
You can buy your pallet woods in cheap and can create your own pallet kitchen shelves. There is so much stuff which we need to assemble in cabinets and shelves in our kitchen to make it look better. Therefore you can buy pallets and convert them into kitchen shelves to get some space for storing your stuff. Once you have made your own kitchen shelves you can paint them according to your kitchen colour scheme. Instead of using them for crockery or other kitchen item you can also put some jars holding plants to add greenery to your kitchen. You can also make a small pallet book shelve in your kitchen for storing your recipe books. You can add hooks at the bottom of your shelf to hang your cups or frying pans at the bottom of your shelf while this will give your kitchen a new look.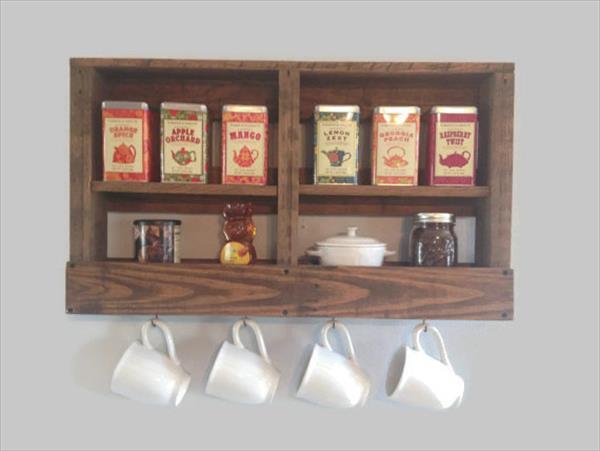 images source: pinterest