15 Unique DIY Wooden Pallet Table Ideas
In my summer vacations I'm free of all days and nothing to do work and not any other decision that what should i do in my summer vacations. One night i decided that I do something work anywhere, my friend recommended that you can start a properly work at your home with a small cash of yours. He told me that gathered some pallet woods which are needless woods, I gathered and give him .. He give me a gorgeous table of Those Pallet Woods with in two days. He told me you can also made like this a table with some work.I tried and I also made a beautiful table. I gives you 15 Most popular Ideas which you can try at your home to make something with the Pallet woods.

Every person wants that at least one table are available in our home in which he put somethings like books, newspapers and many more which he want. A fabulous table shown in this picture made with Pallet wood in which you can put your books magazine easily in the space of recycled wooden table and you can use this as a tea wooden pallet table in your home.
You can watch in the picture that a gorgeous Pallet wood table stayed in a room. This is a bit low because it had no legs. But without legs it looks so beautiful and you can also make this type of Old Pallet wood table at your home with a small money package. You can also put LED lights in the table which make it more amazing.
You already now that pallet wood is a needless wood which is easily available in markets. If you interested in that you wanna try to make this type of table and chairs set you can bought this wood which is known as Pallet Wood in markets. This set of table and chairs is put outdoor if you want to put indoor you can do this and it looks more beautiful in your rooms.
This is a simple Pallet wooden table which is designed by an furniture maker. It designed very simple and you can make this easily in your home. And if you want to paint this any color which you most like you can do this as your wish. You onetime you made this then you can use this in your home to put something on it and you can also used it in your lawns and anywhere where you want.
In this picture wooden pallet table with glass shown this looks very nice because it painted white color and designed very simple decor idea. This table not difficult to make it wants only a bit effort from you.  You can use this as a coffee table in your home and you can put on it anything like books and newspapers. And you can make it easily in your home.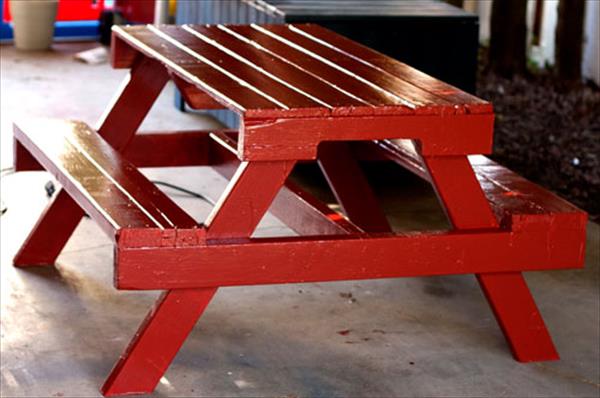 It is a product of wasted pallet wood which is not able to use any purpose but a furniture maker make it and designed it a very unique idea which is no much difficult. A pallet wooden table with bench is shown in the picture, it painted red  color which is my best color in all colors. You can use this as study table and you can also take tea and coffee with your friends.