Easy Wood Pallet Furniture Ideas
Palettes are materials that can be used for many many productive things. You will be finding out some of the best ideas of utilizing old pallets into creating something unusual and unique. Wood pallets are easily available, they are easily available and also easy to work with. They can be separated to create wood planks which can be utilized for any kind of furniture projects.The wooden pallets are perfectly suitable for making out fantastic furniture pieces.
The Easy Wood pallet furniture can be modified as per own desire. Wooden Pallet creations are cheap and easy to handle. It is a sort of recycling in which the disposed off wooden planks change into decor marvels. The pallet furniture is easy to manage and can be altered according to need. Hence, with a slight change of moods the furniture can be reshaped also. Below you may find few ideas of adding creativity to your domestic environment. You can work on these and still the list can be longer if you think creatively yourself.
Amazing Pallet Lounge for outdoor
Pallet Bed for toddlers
Pallet Furniture
Pallet Shoe rack
Pallet Coffee Table With Storage
Two wooden palettes reading nook
Pallet Patio Bed
Pallet Laundry holding Dresser
Pallet multipurpose Table
Pallet Sofa
Bed with glowing base from Wooden Pallets
Pallet Swinging Bed
Pallet Bar and Stools
Pallet Cup Holder
Pallet Gardening Organizer
Antique looking Wine Rack
Adirondack chair
Pallet Pot Bench
Outdoor Table
Pallet garden Fence
Wooden Chill out Lounge
Wood Bench and Gabi on Table
The fold able pallet chairs and tables
The wedding style outdoor bar
So explore your creativity, grab some pallet wood, hold a saw with sander and nails, and here you go.
These economic pieces are not just your creation but match your style and choice. Happy homely furnishing time.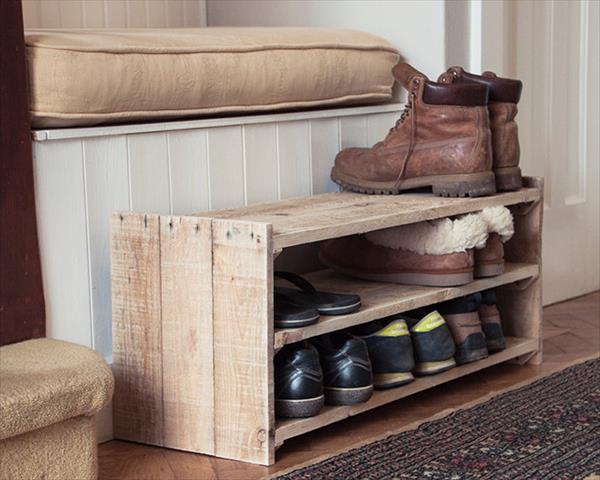 images source: Palletables UK
Save