DIY Wooden Pallet Projects and Ideas for Furniture
Let's catch and craft the unique DIY wooden pallet ideas and projects for your home, with the help of this wonderful site. These pallet projects are artistically crafted to provide you durable and sturdy furniture items. Recycling is the best Eco-friendly activity and when it comes to recycling the old shipping pallet, it always appears the best option for home furnishing and at the same time, earning money with it. It's time to indulge yourself in a great and healthy activity of wood crafting and make some fabulous wood furniture ideas on your own. You can simply select the best project for you from the given pictures and designs by palletsdesigns.com and simply start your work on it.
Pallet Chairs and Sofa Ideas
It's time to amaze the world with your artistic and hidden wood crafting skills by crafting a marvelous wood garden bench on your own. This up cycled bench is created smartly for providing the best seating space for three persons at one place.
Pallet Garden Bench Ideas
Recycled wood pallet does not only mean for indoor home's furniture, you can easily create and craft a thought-provoking outdoor pallet sofa with it as well. This wooden pallet sofa is best to fulfill your garden furniture needs in an economical way.
Pallet Garden Sofa Projects
This is an intricate design of wooden pallet bed. This bed with a large headboard on it back seems best in the white color paint. The delightful innovation of reused wood pallet with storage drawers in its base will able you to have a comfortable sleep in your bedroom and at the same time, you can locate many essential items in its storage drawers to keep them near to you.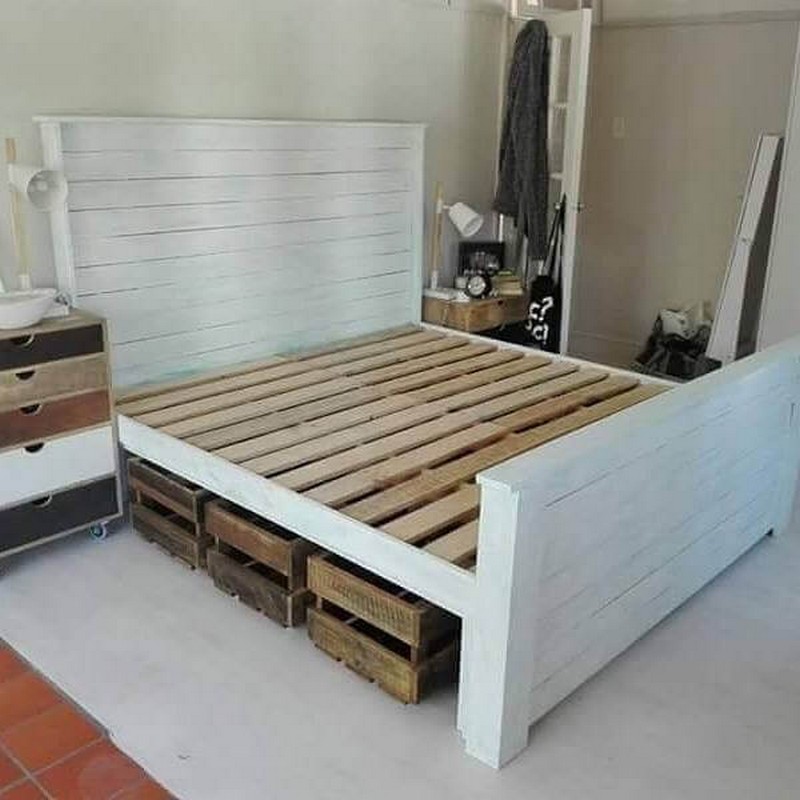 Pallet Queen Size Bed
This is another modern and fascinating creation of wooden pallet have been made here for you. This awesome pallet wood sofa set with pallet table seems much luxurious with the placement of beautiful and comfortable mattresses and cushions on it. Its time to make this project a part of your lounge now.
DIY Recycled Wooden Pallet Projects
This recycled wooden pallet project is eventually taken to provide you the glamorous wooden dining furniture set in your dining room area. These two large size side benches with a giant table structure in middle seem wonderful as we have made the decoration with the blue color tape on it.
Pallet Table and Bench Ideas
This is another multipurpose pallet plan for you. The unique thing about this pallet idea is that it can be easily used for storing different items in it while the upper portion is seemed perfect to meet a coffee table needs with it. So simply design this wooden pallet trunk and coffee table idea for your home.
Pallet Trunk and Coffee Table Ideas
This is another ideal creation that we have made in the form of pallet wood tv stand. We have made this pallet project much spacious for you in the form of four wooden drawers in it. This stylish and modern furniture item will save your great sum of money by providing you a cheap wooden item for your home.
Pallet TV Stand Design
This is yet another fabulous design wood coffee table that is all designed with the unique reshaping of recycled pallets. This creation with the stylish arrangement of planks seems wonderful to locate in your lounge area as shown in the picture given below. So try this project to give your place an appealing look.