If you find out some ideas related to kids and you want to make a baby bed for your kids. So you are right place. If you want to put your time in diy project This is a best place for you. You can plan some projects for your house related to kids play house kids bed etc. We have some new ideas and plans for pallet kids bed. This is a very simple project just you need wooden pallet and a mattress for the bed. There is no need of extra money just you may put your time to this project.
This is a simple wooden pallet bed for kids just blue and green painted color on the pallet. Some beautiful pillow and cushion set on the mattress of the bed and this bed show a beautiful look.
This is complete diy pallet kids bed made with wooden pallet. Headboard and foot side show the design of wooden pallet this is quite simple bed no extra style and color include in this a mattress set on the bed. Here a sky blue bed sheet look good on the bed with white cushions.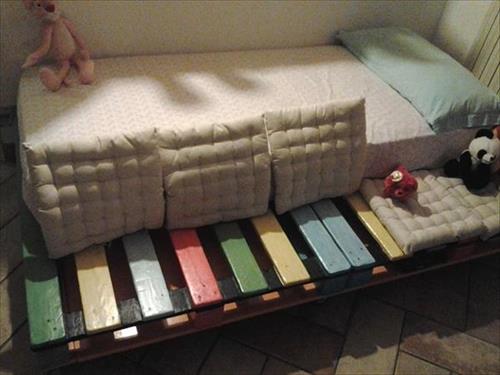 Simply wooden pallet use at bottom and a mattress set on it a beautiful diy wooden pallet kids bed ready beautiful teddy and panda hold on bed the slid of pallets painted different color. Because kids are attract with color. The play with colors and like colorful item.
This is a wooden pallet bed for kids made in height like double bed or birth type. This is new thing for kids. Kids are jumping and climbing on bed for fun. That why this type of bed is designed for kids. Many item take place at bottom of bed. which manage the minimum space.